Explore North America's only living coral reef with Tours of Key West
Explore North America's only living coral reef with Tours of Key West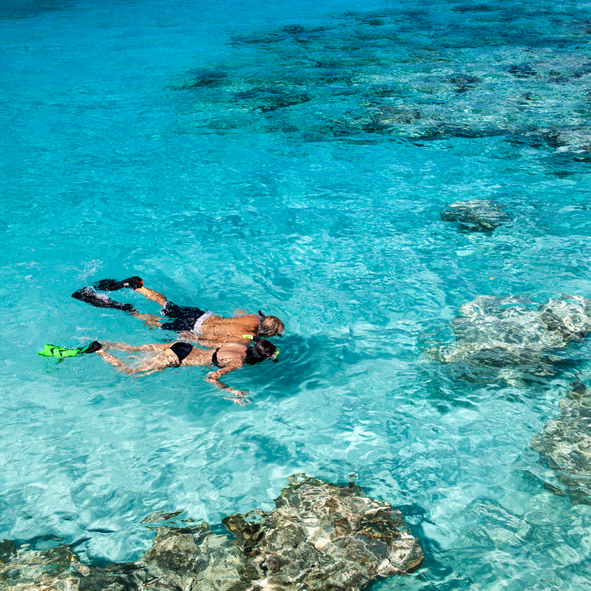 Snorkeling is by far one of the most talked-about and beloved activities for Key West visitors. For many, putting on a mask and taking a trip to the underwater world is a vacation in itself. The sights of colorful ocean life create a magnificent and unforgettable memory and relax a person in a unique and beautiful way in which only the ocean can. For the young and young at heart, for the land lover and the avid swimmer, for the novice and the expert; there is nothing like jumping in the sun-soaked waters to swim fin to fin with the local ocean dwellers.
While in the water, there is so much to see! You will get the chance to explore North America's only living coral reef, swim over white sandy bottoms, and pass through beautiful sponge gardens. Keep an eye out for angelfish, parrotfish, blue tangs, glass minnows, goatfish, yellowtail snappers and Bermuda chubs. If you are lucky, you may encounter dolphins. This amazing abundance of marine life can only be found in the crystal blue waters of Key West, so soak it all in while you can!
We offer an impressive list of snorkeling tour package choices at the best prices on the island. From approximately three hours all the way up to full-day 8-hour trips, and options of morning or afternoon departure times, there is a choice to fit every schedule. Depending on the trip you choose, there are different options for getting to the snorkeling destination, and getting there is half the fun!
One of our luxurious, state of the art 58-foot catamarans offers the most efficient and quick way to hit the water. These craft will give you plenty of room to move around, a stairway to the sea for easy access to the water, and freshwater showers to rinse off after snorkeling. Other options include sailing, kayaking, or even going out on a sportfishing boat. All snorkel tour boats are equipped with space to handle personal items for each guest, so make sure to bring sunscreen, snacks, hats and towels, and your camera!
All of our tours include the use of top of the line, fully sanitized snorkeling gear, friendly and easy to understand instruction given by our knowledgeable staff, any special equipment necessary for your specific adventure, and snacks and refreshments. Whether you are taking the plunge for the first time or the one hundredth, our guides will do everything they can to make your experience worry-free and amazing.
Whichever trip you take, rest assured that the experience will be stress-free and create a great memory of your Florida Keys visit. This is a safe and comfortable way to experience the living coral reef, one of the most diverse and gorgeous environments in the world. It's all yours for the taking when you choose to adventure with Tours of Key West.
Read More